Want media coverage for your business, event or personal brand? Ready to nail your next interview?
With Media Bootcamp, two working journalists will give you all the tools, information and insider knowledge you need to ace it.
Your instructors have been published in: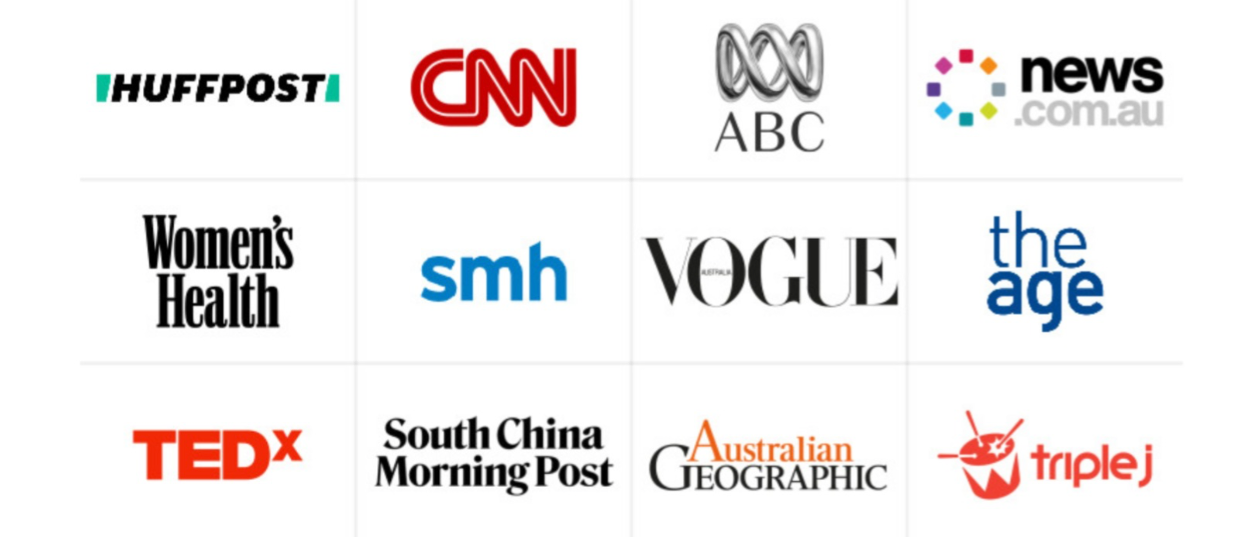 "Media Bootcamp was transformational. In a day I worked out my expertise and how I can apply that to my story. I found the training so valuable." Pip
"Media Bootcamp was brilliant. I feel so much more confident about pitching myself to the media and in deciding which media is actually appropriate to my business and brand. It was incredibly useful to learn what the media actually cares about. That has saved me soooo much time. I also loved how practical the day was. I really enjoyed receiving expert feedback on my interview style. " Samantha Nolan-Smith"Media Bootcamp was transformational. In a day I worked out my expertise and how I can apply that to my story. I found the training so valuable." Pip

"Since Sue and Ginger asked me to help turn their popular face-to-face program into a first-class online course, I've been incredibly impressed: Media Bootcamp is 40 years of experience wrapped in a professional, engaging and information-packed online media training.
I've helped over 100 companies of all sizes develop online courses based on their expertise, and I can see a real expert a mile away. It was obvious to me from day one that these two know their stuff. Separately, Sue and Ginger's experience in the media is impressive. Together, it's unbeatable. Plus, they are generous in sharing their knowledge via insider tips, real world examples, activities and demonstrations designed to ensure their students get real world results.

I'd highly recommend Media Bootcamp to anyone who wants to REALLY understand how to get publicity for their business, or be awesome in their next media interview. Even though I've been a fly on the wall through the many months of development for this one, I'm so impressed I'm going to be doing it myself start to finish!" Maria Doyle, Curriculum Development Specialist

A Letter From Sue And Ginger
Co-Founders Of Media Bootcamp
Have you ever wondered why the same people are featured in the mainstream media over and over again?
It's because they've learned the trick to becoming what we journalists and media folks call "good talent".
We've all seen it – you open the paper, click on a story online, or tune into the radio and hear a story featuring the same talking head you've seen numerous times before. How did they get there? Do they have some sort of open hotline to the country's biggest media outlets? Do they have the names of top journalists on speed dial, and just call every day to see if they can come on air? Maybe, but probably not: it's just that they've learned how to become the kind of interviewees journalists love. Good talent give us what we need to tell an engaging story, every time. Good talent always turn ups. Good talent knows how to add value to a journalist's work. They make our stories great.
We need them, and the more of them out there: the easier our jobs become.
But here's the problem. Over our many, MANY (gosh, so many!) years working in the media, we've interviewed thousands of people. We've talked to activists and academics, scientists and students, the marginalised and the well meaning, as well as celebrities, CEOs and entrepreneurs. Some are great talent, and some are, well, to put it politely, not so great. It's not their fault: there's a formula to doing this well. We live and breathe the media every day: they don't.
If you want to get media coverage for your personal brand, your business, your product or your issue: we can help. In fact, we WANT to help, because we know what happens to good media talent: their issue gets more attention. Their products fly off the shelves. Their events sell out. They get labelled as an expert, or an influencer, and receive the myriad benefits that come with that.
The good news? That could be you! You don't need years of experience. You don't need to be an incredible public speaker. You just need to understand the media landscape, and our formula for success.
That's why we're so excited to be offering Media Bootcamp to an online audience. For years, behind the scenes, we've both been helping people understand how to sell their story to the media, and then nail each and every interview.
Last year, we joined forces and started working together on Media Bootcamp so that our students get the benefit of our forty years combined experience. Between the two of us, there's nothing we don't know about how to get your story out there. We continue to be blown away by the response to our in person courses, but we know lots of you were missing out as you couldn't come to us.
So we've spent months working on this to make sure that what we launched will change the way you think about, deal with and react to the media. We've packed Media Bootcamp course with insider tips, real world examples, and tons of activities to fast track you to becoming 'good talent' and in interesting the media in your story.
Want to get started? See you in the course!
Sue and Ginger
Media Bootcamp